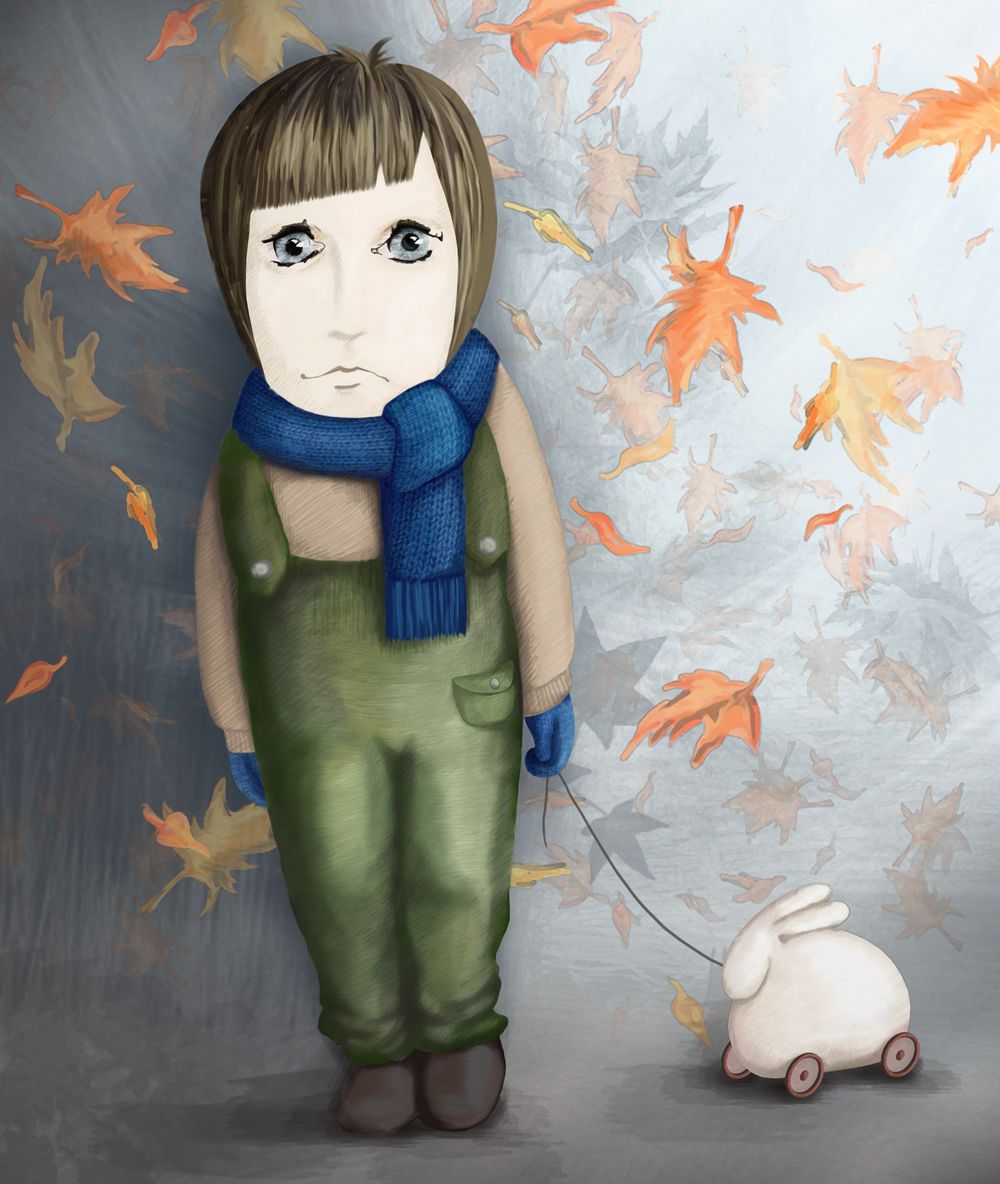 See Full Size
The Feeling and Experience of Loss
Portrayal – A small girl, standing there alone with an expression that conveys deep sadness and loss. There is no spark in her eye and she looks like she's almost given up on trying to connect with a source of love and joy, which, after the basics of food/shelter/clothing, is the most important thing in the world. In actuality it's not far off in terms of importance as a need.
She is standing there looking solemn, with her arms at her side, legs close together and an overall posture that gives one the sense that her body has no idea what it is like to dance, or to hop and skip. Her eyes are big and sad, a window into her soul and her emotional state. They are not very engaged and seem to indicate that she is in a haze of some sort, maybe confused, or likely overwhelmed by the experiences she had just prior.
She's wearing good quality clothing and a nice, bright scarf and mittens. Her caretakers provide for all her physical needs but are negligent, or unable to provide for the more crucial emotional ones. She has a toy rabbit as a companion who happens to be on a leash. She probably has it around her at all times and takes it everywhere she goes. Her only ally. This ally has no face and therefore no soul. It is an empty vessel, but will suffice and is better than nothing.
The falling leaves symbolize loss. The loss of her childhood, of unconditional love, and of part of her spirit.
"Death is not the greatest loss in life. The greatest loss is what dies inside us while we live." – Norman Cousins

POST YOUR EXPERIENCE
Share your tips, wisdom and personal journey dealing with your emotions and make a difference to the community. To submit a post, click here.




THE EMOTIONAL EATING WEBSITE (ALL FREE)
The Eating Love Guide has helped many people regain control of their eating patterns, resulting not only in weight loss but also better health and improved self-esteem. To read it online, click here.